El club Ávalon ha celebrado las primeras Jornadas de Wargames Históricos y Fantásticos, Con-Queror 2023. Del 14 al 16 de Abril, el local del Club acogió partidas de todo tipo de Wargames, desde las miniaturas hasta los clásicos juegos de hexágonos. Con la colaboración de clubes de la provincia y venidos desde Valencia o incluso Madrid, pudimos acoger partidas de Principles of War, Warhammer 40K, ASL, Bolt Action, Conflict of Heroes, etc.
Durante estos tres días, el club ha acercado este tipo de juegos a la población castellonense, pudiendo todos los que se acercaron, encarnar a generales dirigiendo las tropas en batalla, o simplemente siendo un sargento con un pequeño pelotón. La cuestión era divertirse con juegos que simulan cualquier tipo de enfrentamientos sobre un tablero.
Como patrocinadores, contamos con la participación de las tiendas Dice Wars y Mol-Rod, de Castellón, y como colaboradores, los clubes de Warhammer 40K (WCC), Miskatonic de Castellón, y el club Dragon de Madrid. A todos ellos, agradecer su presencia y su participación, y muy especialmente, a Santiago De la Peña, presidente del Club Dragón, que vino desde Madrid para arbitrar una estupenda partida reproduciendo la batalla de Fleurus en la mesa principal.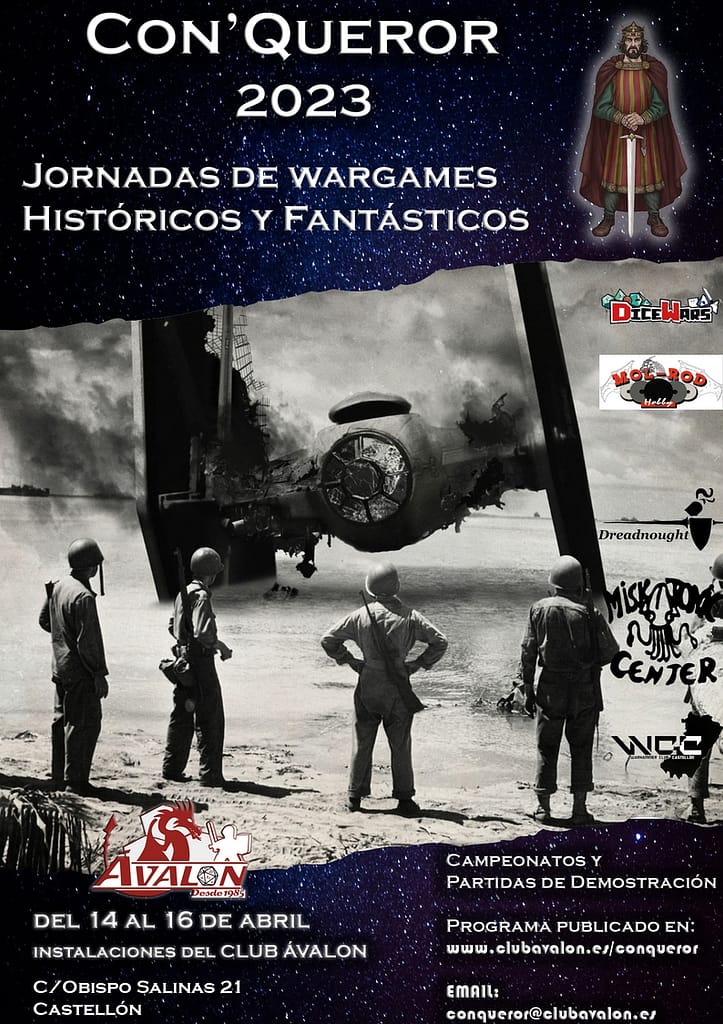 ¡Esperamos contar con vosotros el año que viene!
Para terminar, os dejamos dos enlaces al Periódico Mediterraneo, uno con el artículo publicado por ellos, y otro con las fotos del evento.
Con'Queror, las jornadas de wargames llegan este fin de semana.
Las mejores imágenes de las primeras jornadas de Wargames en Castellón.